Typological Drift: Emerging Cities in China
(January 2022)
Out Now:
"Anonymity in Jianghu: Hong Kong's Public Space in Times of Crisis" by Esther Lorenz is published in the double issue of
Architecture Philosophy,
Vol. 6 No. 1/2 (2023), edited by André Patrão, Hans Teerds, and Christoph Baumberger
Shiqiao Li co-edited the most recent special issue of
Theory Culture Society
Journal,
Against Ontology: Chinese Thought and Francois Jullien
, together with Scott Lash
(September 2023)
Recent Publications:
"The Return of the Literati" by Shiqiao Li, in:
Atelier Deshaus 2001-2020
(Book released : January 2023)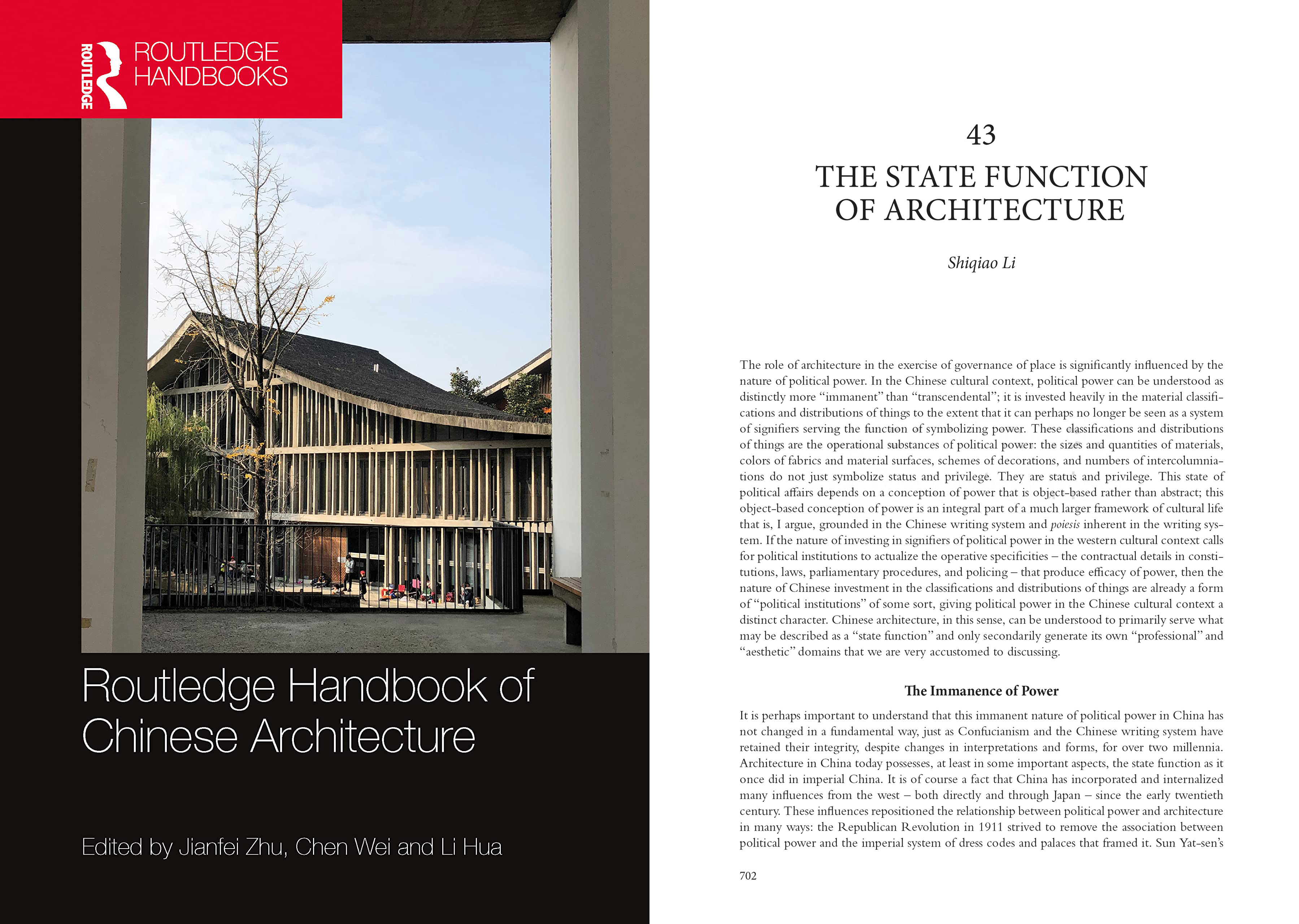 Shiqiao Li contributed two chapters to the
Routledge Handbook of Chinese Architecture: Social Production of Buildings and Spaces in History
, edited by Jianfei Zhu , Chen Wei, and Li Hua: "Figuration: Writing, Memory, and Cities in Chinese Culture" and "The State Function of Architecture." (Book released : November 2022)
Peter G. Rowe and Shiqiao Li in conversation on "Post-West Globalization,"
Harvard Design Magazine S/S 22, 50: Today's Global
See complete selection of publications.
Past Exhibitions:
Emerging Typologies in the City Region,
2016
See complete catalog of past exhibitions
Podcast:
Episode 40 of the
Unfrozen
podcast on architecture and urbanism. Shiqiao Li in conversation with host Daniel Safarik on
Typological Drift: Emerging Cities in China
.
Listen to the podcast episode.
Recent Presentations:
Shiqiao Li delivered a talk on "Generative or Biological: Models of Architecture", ADF
2023 Doctoral Consortium, Theory of Digital Design in Architecture
, Tongji University, 18 June 2023

Shiqiao Li and Liu Yichun lecturing on and discussing Chinese architecture and literati culture. Harvard CAM Lab, 22 April 2023
Shiqiao Li lectured on "Constructing a Ming Maritime Infrastructural State" at The City College of New York, 9 February 2023
See lecture details.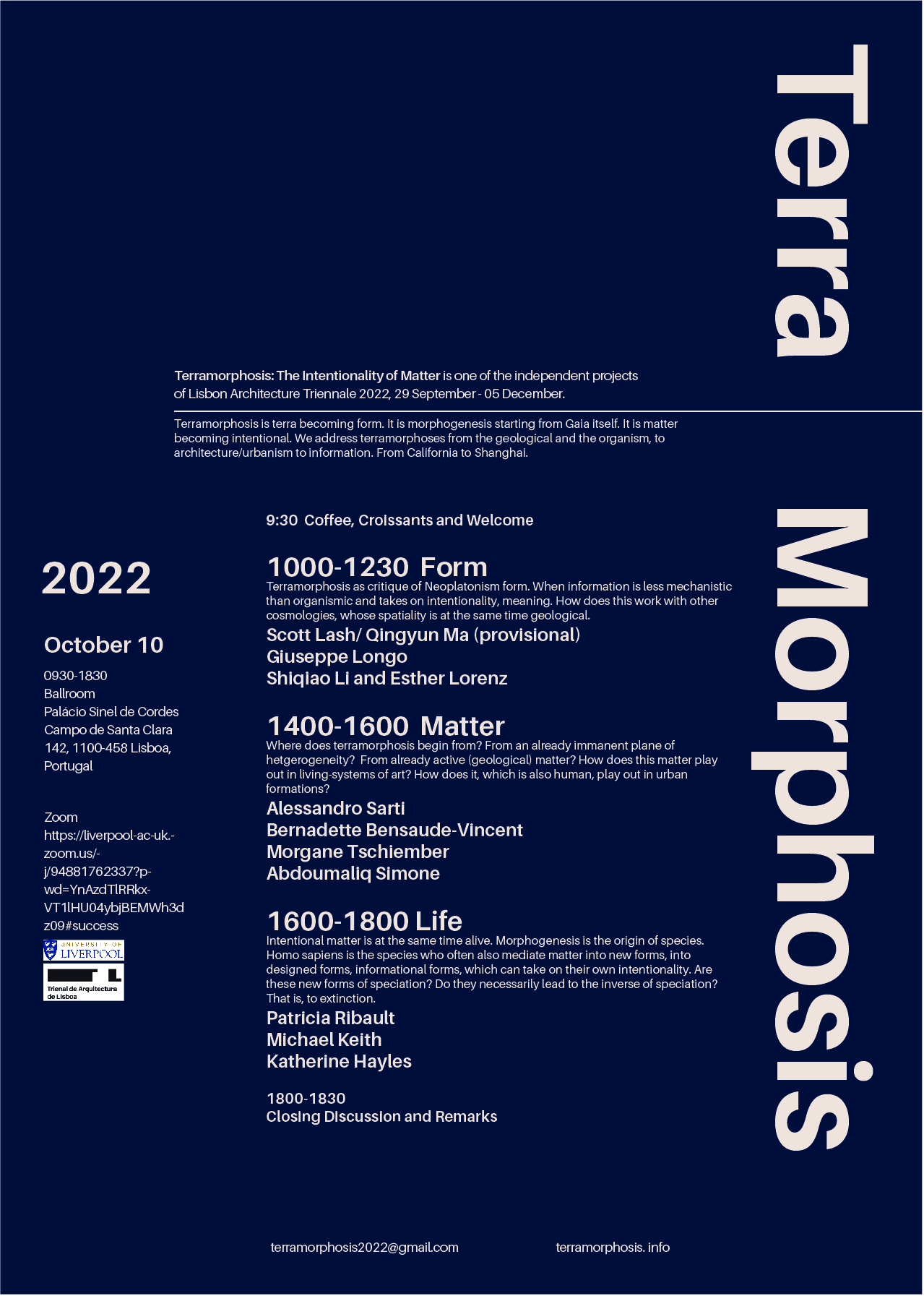 Shiqiao Li and Esther Lorenz were invited speakers at the conference
Terramorphosis: The Intentionality of Matter
, convened by Scott Lash, Lisbon Architecture Triennale, 10 October 2022
Lecture series by Shiqiao Li at the DigitalFUTURES 2022 Doctoral Consortium, Tongji University, June 2022
Typological Drift: Emerging Cities in China
, book presentation and discussion (online)
Saturday, May 7, 2022 8am ET, Penn Wharton China Center, Pennsylvania University
See selected list of past presentations.
Recent Events:
AUC Inaugural Workshops
Friday, February 18 – Saturday, February 19, 2022
Rotunda Dome Room, University of Virginia
Book Launch

Typological Drift: Emerging Cities in China
Friday, February 18, 2022, 5pm ET
Naug, Campell Hall, School of Architecture, University of Virginia
See complete schedule of AUC Events.